Men's black diamond wedding rings
In this post we focus on black diamond men's rings, once again by Allurez .  As with the rings from previous posts, there are many high quality diamond rings to choose from. The images below showcase wedding bands and rings in white, yellow and rose gold in both 14k and 18k. Additionally black rhodium, sterling silver platinum and palladium is featured. All the items feature black diamonds in a variety of styles.
Of particular interest is the range of nautical compass rings.
The images feature a quote by Frank Sinatra – What I do with my life is of my own doing, I live it the best way I can. The theme of this post is aimed at independence of though and action. Enjoy!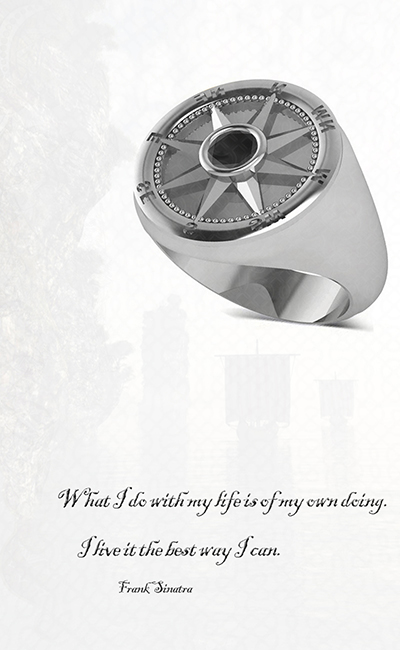 Awesome range of black diamond men's rings – This handsome nautical compass ring features a brilliant cut round black diamond of SI1-SI2 clarity which is extremely vibrant and shiny. This 14k white gold ring is proudly handcrafted in the USA. From the Allurez Island Jewelry collection. Available from Allurez. Priced at (subject to change) $2574.80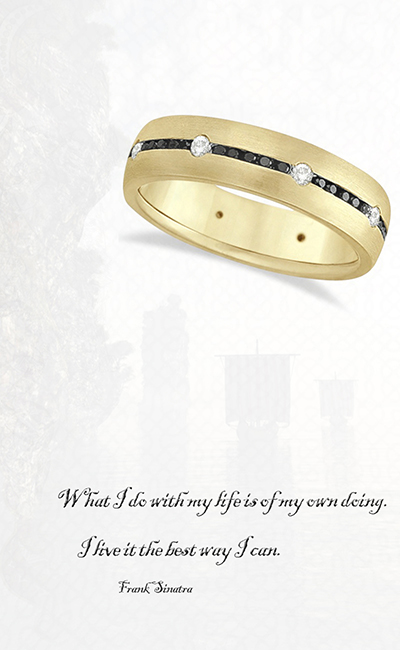 Awesome range of black diamond men's rings – 40 brilliant-cut round black diamonds are accented by 8 brilliant-cut round white diamonds. These bright diamonds of G-H VS2 clarity are beautifully circling all the way around the ring and are set in an elegant channel-setting. This comfort-fit unique band for men features a satin finish making the unique colored diamond ring unlike any other. With about 10.1 grams of gold the ring is heavy in gold making it extremely valuable. Wear it as a wedding band as an anniversary ring as a men's engagement ring or as a right hand fashion ring. Also available in other widths and precious metals. Available from Allurez. Priced at (subject to change) $1950.00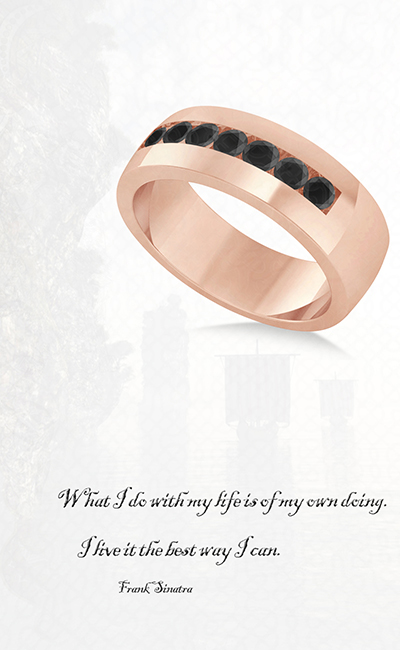 Awesome range of black diamond men's rings – Express your commitment to your SI1gnificant other with this striking channel set Men's black diamond ring wedding band.There are 7 magnificent near-colorless round diamonds channel set of black color and SI1 clarity weighing a total of 0.49 carats. Made in stunning 14k rose gold and proudly crafted in the U.S.A this luxurious men's wedding band can also be worn as a fashion ring. Available from Allurez. Priced at (subject to change) $1402.00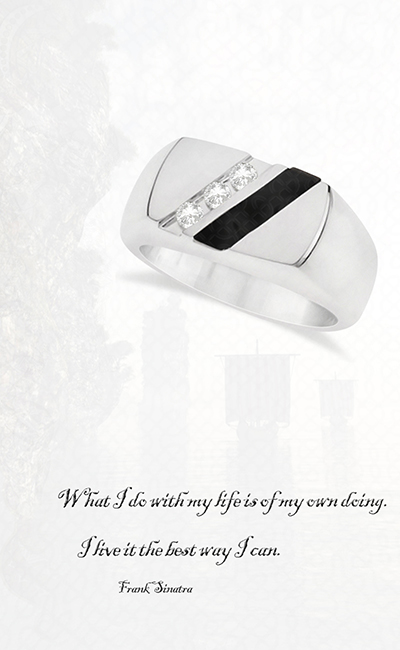 Awesome range of black diamond men's rings – This handsome black onyx and diamond ring features 0.10 carats of diamond light emanating from three channel set diamonds.Crafted from .925 sterling silver this fashion ring for men features a genuine black onyx set on a slant with three channel set diamonds set in the same way next to it.Made to take him from work suits to weekend sweats this black onyx and diamond ring is perfect as a unique wedding band or a ring to be worn on the right hand. Available from Allurez. Priced at (subject to change) $255.00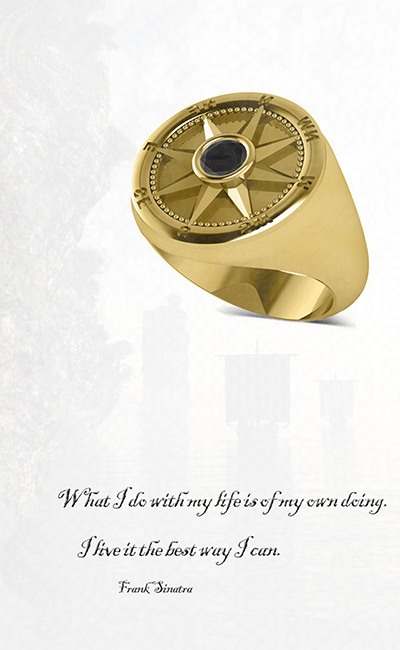 Awesome range of black diamond men's rings – This handsome nautical compass ring features a brilliant cut round black diamond of SI1-SI2 clarity which is extremely vibrant and shiny. This 14k yellow gold ring is proudly handcrafted in the USA. From the Allurez Island Jewelry collection. Available from Allurez. Priced at (subject to change) $2574.80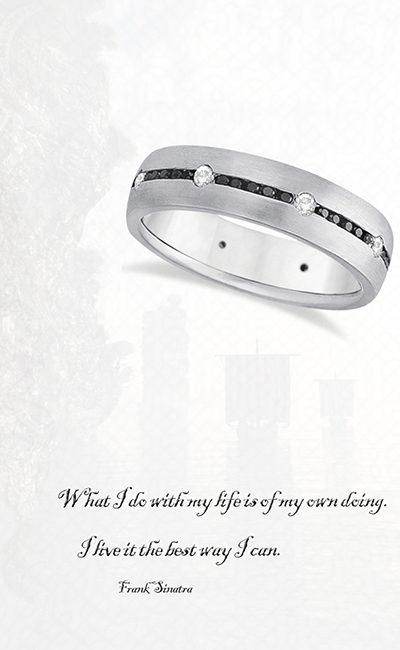 Awesome range of black diamond men's rings – 40 brilliant-cut round black diamonds are accented by 8 brilliant-cut round white diamonds. These bright diamonds of G-H VS2 clarity are beautifully circling all the way around the ring and are set in an elegant channel-setting. This comfort-fit unique band for men features a satin finish making the unique colored diamond ring unlike any other. With about 10.10grams of gold the ring is heavy in gold making it extremely valuable. Wear it as a wedding band as an anniversary ring as a men's engagement ring or as a right hand fashion ring. Also available in other widths and precious metals. Available from Allurez. Priced at (subject to change) $1950.00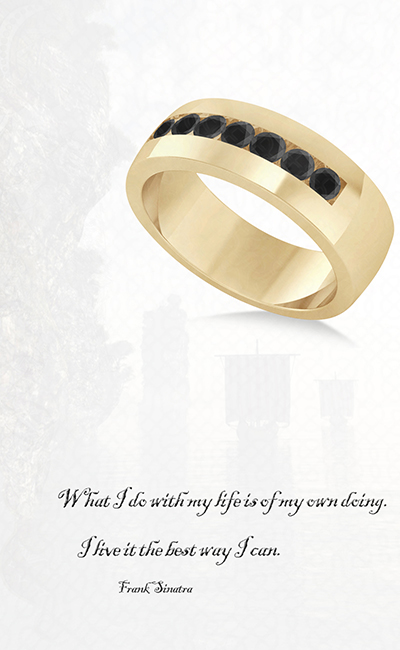 Awesome range of black diamond men's rings – Express your commitment to your SI1gnificant other with this striking channel set Men's black diamond ring wedding band.There are 7 magnificent near-colorless round diamonds channel set of black color and SI1 clarity weighing a total of 0.49 carats.Made in stunning 14k yellow gold and proudly crafted in the U.S.A this luxurious men's wedding band can also be worn as a fashion ring. Available from Allurez. Priced at (subject to change) $1402.00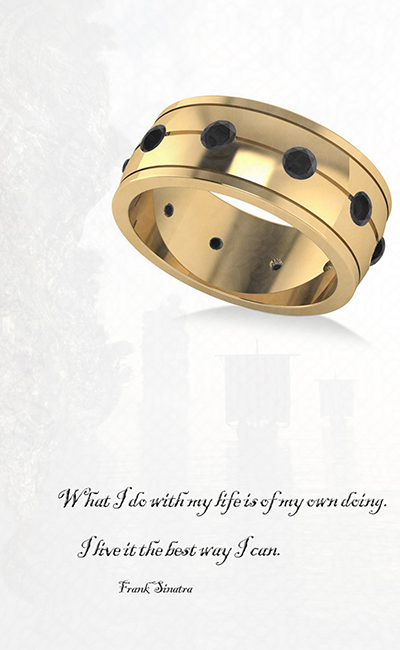 Awesome range of black diamond men's rings – Crafted in stunning 14k yellow gold this Men's diamond ring wedding band is a handsome piece of jewelry.There are 10 magnificent near-colorless round diamonds burnish set of black color and SI1 clarity weighing a total of 1.00 carat.This masculine diamond wedding band can also be worn as a fashion ring. Proudly crafted in the U.S.A this luxurious diamond wedding band is a ring you will cherish for a lifetime. Available from Allurez. Priced at (subject to change) $1950.00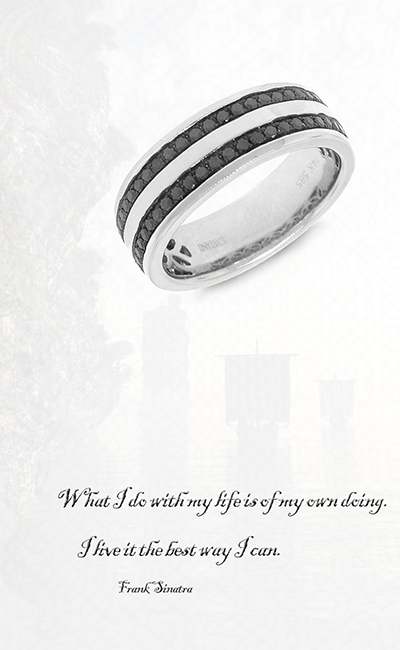 Awesome range of black diamond men's rings – Add sparkle to your style with this timeless black diamond ring which has an approximate weight of 0.86 ctw. It makes for a great anniversary birthday or weddings day gift. Available from Allurez. Priced at (subject to change) $1250.00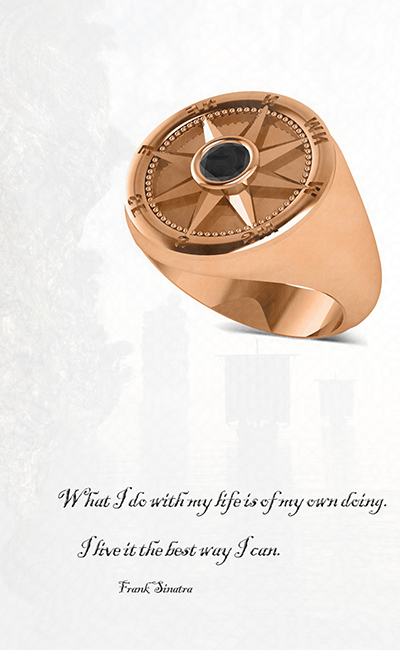 Awesome range of black diamond men's rings – This handsome nautical compass ring features a brilliant cut round black diamond of SI1-SI2 clarity which is extremely vibrant and shiny. This 14k rose gold ring is proudly handcrafted in the USA. From the Allurez Island Jewelry collection. Available from Allurez. Priced at (subject to change) $2574.80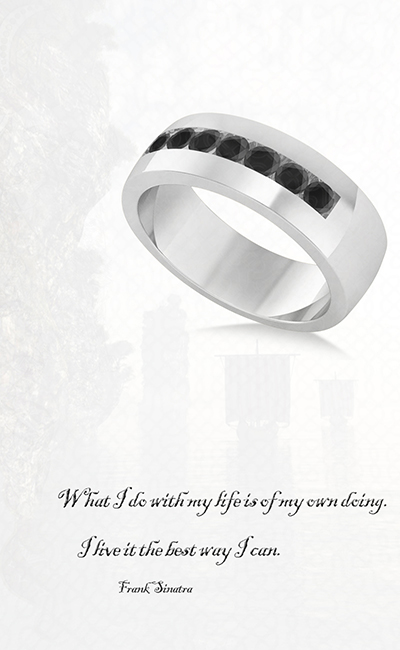 Awesome range of black diamond men's rings – Express your commitment to your SI1gnificant other with this striking channel set Men's black diamond ring wedding band.There are 7 magnificent near-colorless round diamonds channel set of black color and SI1 clarity weighing a total of 0.49 carats.Made in stunning 14k white gold and proudly crafted in the U.S.A this luxurious men's wedding band can also be worn as a fashion ring. Available from Allurez. Priced at (subject to change) $1402.00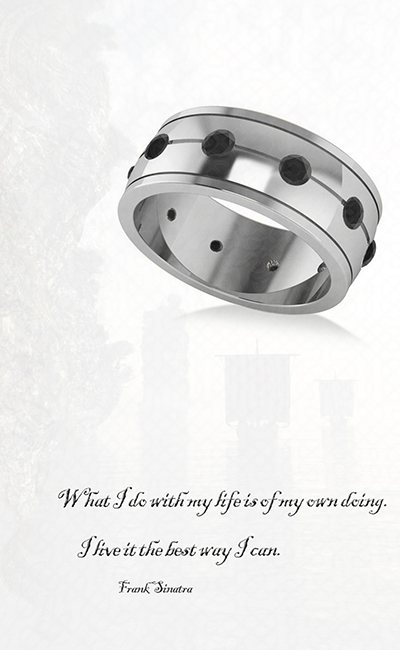 Awesome range of black diamond men's rings – Crafted in stunning 14k white gold this Men's black diamond ring wedding band is a handsome piece of jewelry.There are 10 magnificent near-colorless round diamonds burnish set of black color and SI1 clarity weighing a total of 1.00 carat.This masculine diamond wedding band can also be worn as a fashion ring. Proudly crafted in the U.S.A this luxurious diamond wedding band is a ring you will cherish for a lifetime. Available from Allurez. Priced at (subject to change) $1950.00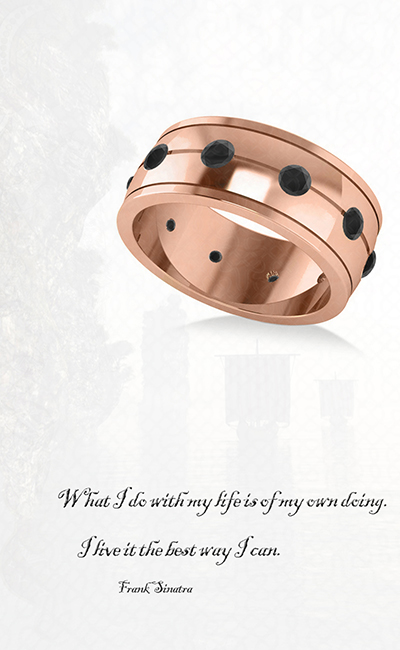 Awesome range of black diamond men's rings – Crafted in stunning 14k rose gold this Men's diamond ring wedding band is a handsome piece of jewelry.There are 10 magnificent near-colorless round diamonds burnish set of black color and SI1 clarity weighing a total of 1.00 carat.This masculine diamond wedding band can also be worn as a fashion ring. Proudly crafted in the U.S.A this luxurious diamond wedding band is a ring you will cherish for a lifetime. Available from Allurez. Priced at (subject to change) $1950.00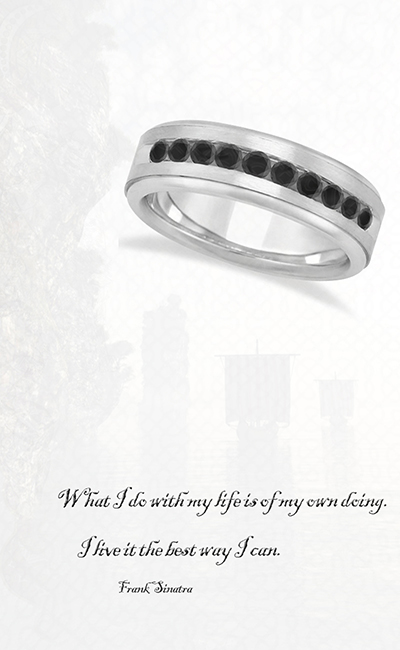 Awesome range of black diamond men's rings – A simple men's wedding ring is traformed into a beautiful unique colored diamond ring featuring 10 round cut sparkling black diamonds. The black diamonds are of VS Clarity and are set in a channel setting. The diamonds on this unique wedding band for men go half way around in a semi-eternity fashion. Available from Allurez. Priced at (subject to change) $1312.00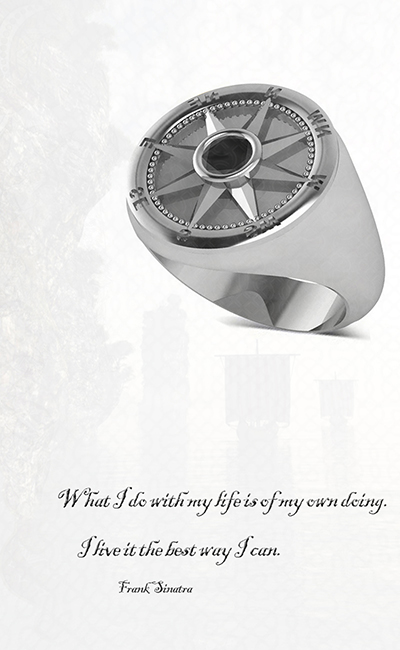 Awesome range of black diamond men's rings – This handsome nautical compass ring features a brilliant cut round black diamond of SI1-SI2 clarity which is extremely vibrant and shiny. This 18k white gold ring is proudly handcrafted in the USA. From the Allurez Island Jewelry collection. Available from Allurez. Priced at (subject to change) $3037.90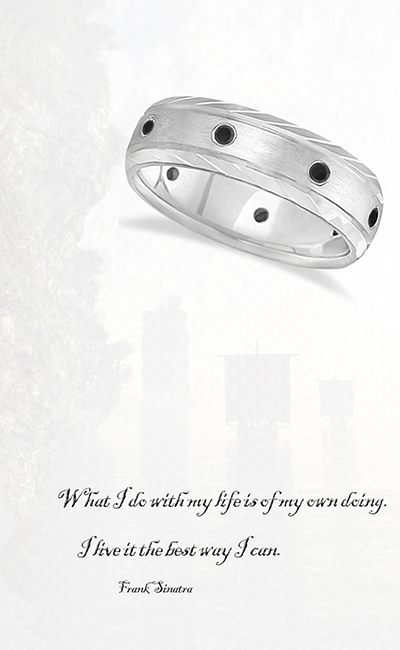 Awesome range of black diamond men's rings – Show him that he holds a special place in your heart with these men's burnish-set black diamond wedding bands. This wedding band is set in a beautiful 14k white gold setting. A total of round cut s totaling approximately cts. decorate the sides of the burnish set center stone in a classic fashion. Available from Allurez. Priced at (subject to change) $1540.00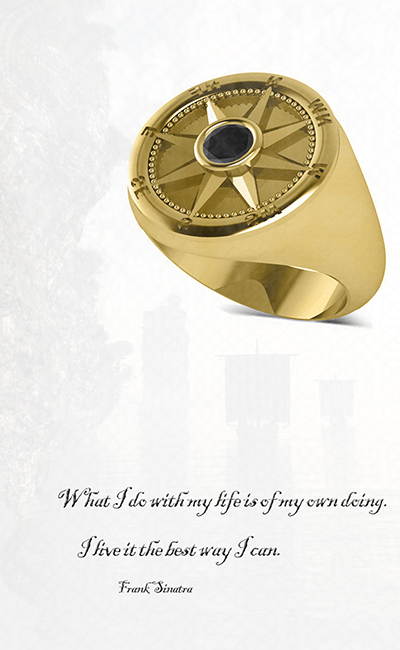 Awesome range of black diamond men's rings – This handsome nautical compass ring features a brilliant cut round black diamond of SI1-SI2 clarity which is extremely vibrant and shiny. This 18k yellow gold ring is proudly handcrafted in the USA. From the Allurez Island Jewelry collection. Available from Allurez. Priced at (subject to change) $3037.90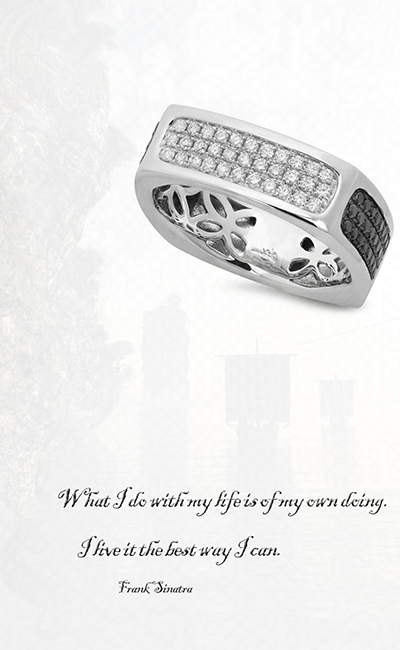 Awesome range of black diamond men's rings – Light up the room with this glamorous black diamond ring which has an approximate weight of 0.94 ctw. It makes for a great anniversary birthday or weddings day gift. Available from Allurez. Priced at (subject to change) $1830.00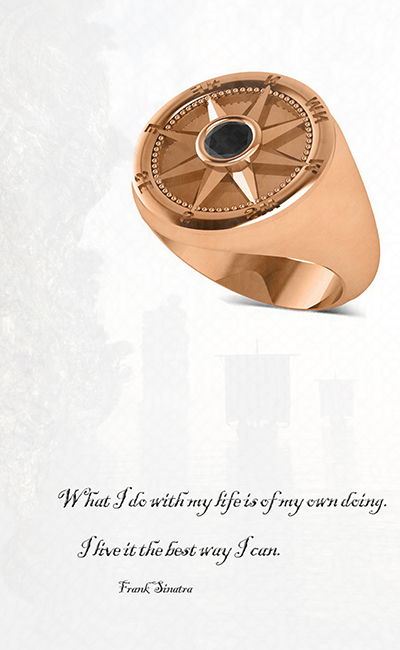 Awesome range of black diamond men's rings – This handsome nautical compass ring features a brilliant cut round black diamond of SI1-SI2 clarity which is extremely vibrant and shiny. This 18k rose gold ring is proudly handcrafted in the USA. From the Allurez Island Jewelry collection. Available from Allurez. Priced at (subject to change) $3037.90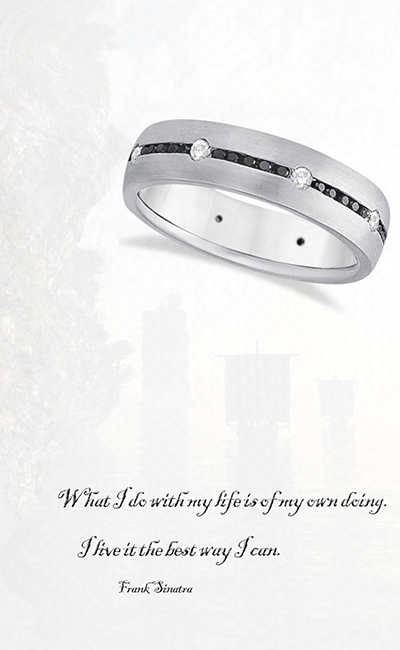 Awesome range of black diamond men's rings – 40 brilliant-cut round black diamonds are accented by 8 brilliant-cut round white diamonds. These bright diamonds of G-H VS2 clarity are beautifully circling all the way around the ring and are set in an elegant channel-setting. This comfort-fit unique band for men features a satin finish making the unique colored diamond ring unlike any other. With about 9 grams of palladium the ring is heavy in precious metal making it extremely valuable. Wear it as a wedding band as an anniversary ring as a men's engagement ring or as a right hand fashion ring. Also available in other widths and precious metals. Available from Allurez. Priced at (subject to change) $1990.00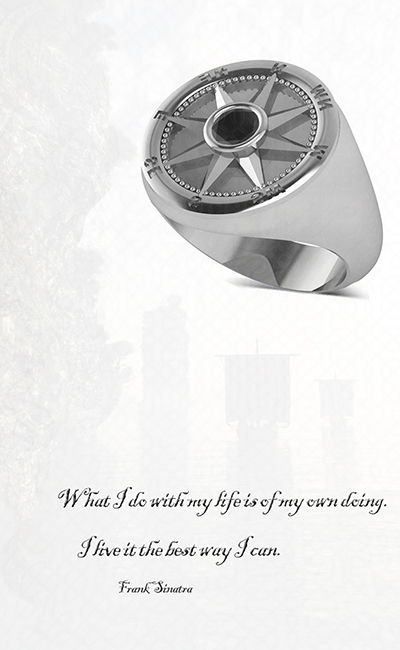 Awesome range of black diamond men's rings – This handsome nautical compass ring features a brilliant cut round black diamond of SI1-SI2 clarity which is extremely vibrant and shiny. This palladium ring is proudly handcrafted in the USA. From the Allurez Island Jewelry collection. Available from Allurez. Priced at (subject to change) $2780.50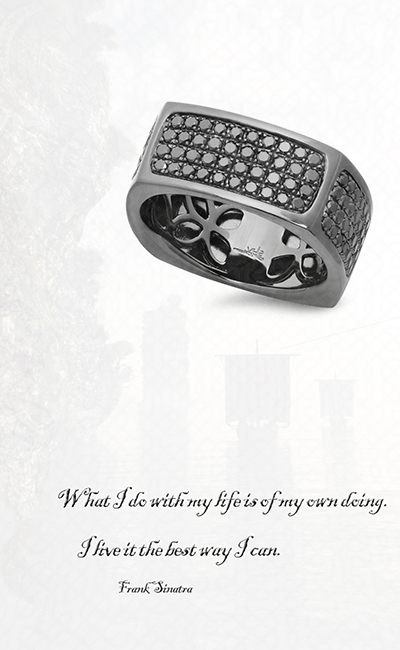 Awesome range of black diamond men's rings – Light up the room with this classic black diamond ring which has an approximate weight of 1.62 ctw. It makes for a great anniversary birthday or weddings day gift. Available from Allurez. Priced at (subject to change) $2170.00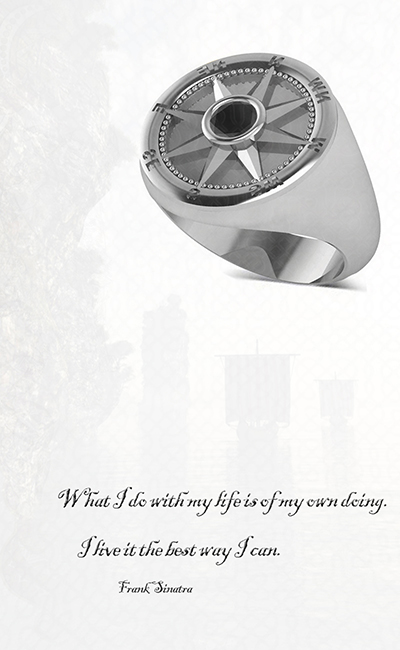 Awesome range of black diamond men's rings – This handsome nautical compass ring features a brilliant cut round black diamond of SI1-SI2 clarity which is extremely vibrant and shiny. This platinum ring is proudly handcrafted in the USA. From the Allurez Island Jewelry collection. Available from Allurez. Priced at (subject to change) $4046.60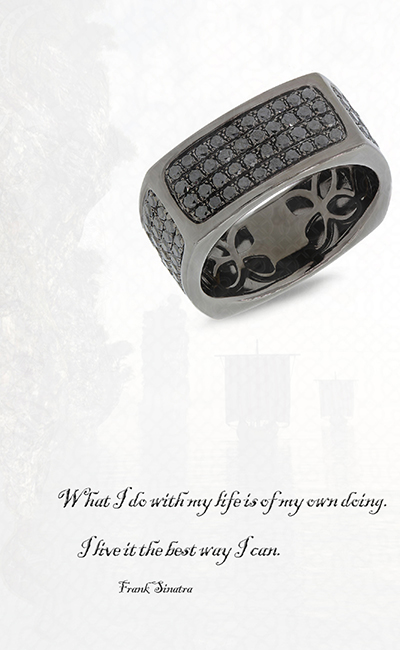 Awesome range of black diamond men's rings – Complete your look with this stunning black diamond ring which has an approximate weight of 1.62 ctw. It makes for a great anniversary birthday or weddings day gift. Available from Allurez. Priced at (subject to change) $2170.00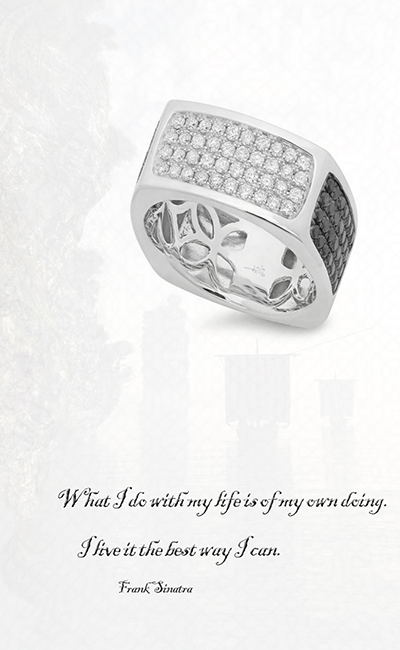 Awesome range of black diamond men's rings – Light up the room with this precious black diamond ring which has an approximate weight of 1.78 ctw. It makes for a great anniversary birthday or weddings day gift. Available from Allurez. Priced at (subject to change) $2830.00