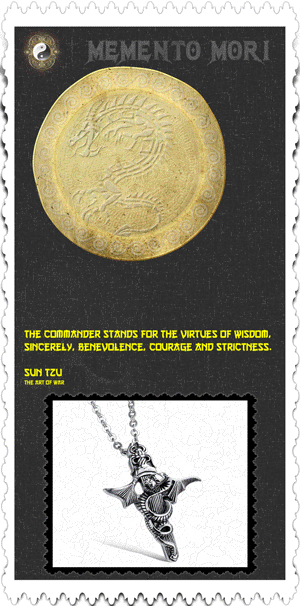 Mythological dragons are all the rage again, because of the popular Tv show inspired by historical events on the backdrop of  fantasy. The summary of this story may as well be Memento Mori, the Latin phrase literally meaning "remember you must die".
Undeniably this post was inspired by this show, which has taken the world by storm.
In the following pages a number of images feature a quote from  Sun Tzu from the book The Art of  War with a dragon design. Dragon inspired jewelry items are included in the pictures with a link to online vendors. These products are available at the time of posting.
The art of war is of vital importance to the State. Sun Tzu, The Art of War
Heaven signifies night and day, cold and heat, times and seasons. Sun Tzu, The Art of War
Earth comprises distances, great and small; danger and security; open ground and narrow passes; the chances of life and death. Sun Tzu, The Art of War
The Commander stands for the virtues of wisdom, sincerely, benevolence, courage and strictness. Sun Tzu, The Art of War
All warfare is based on deception. Sun Tzu, The Art of War
When able to attack, we must seem unable; when using our forces, we must seem inactive; when we are near, we must make the enemy believe we are far away; when far away, we must make him believe we are near. Sun Tzu, The Art of War
Hold out baits to entice the enemy. Feign disorder, and crush him. Sun Tzu, The Art of War
If he is secure at all points, be prepared for him. If he is in superior strength, evade him. Sun Tzu, The Art of War
If your opponent is of choleric temper, seek to irritate him. Pretend to be weak, that he may grow arrogant. Sun Tzu, The Art of War
If he is taking his ease, give him no rest. If his forces are united, separate them. Sun Tzu, The Art of War
Attack him where he is unprepared, appear where you are not expected. Sun Tzu, The Art of War
Though we have heard of stupid haste in war, cleverness has never been seen associated with long delays. Sun Tzu, The Art of War
There is no instance of a country having benefited from prolonged warfare. Sun Tzu, The Art of War
It is only one who is thoroughly acquainted with the evils of war that can thoroughly understand the profitable way of carrying it on. Sun Tzu, The Art of War
Bring war material with you from home, but forage on the enemy. Thus the army will have food enough for its needs. Sun Tzu, The Art of War
The proximity of an army causes prices to go up; and high prices cause the people's substance to be drained away. Sun Tzu, The Art of War
A wise general makes a point of foraging on the enemy. One cartload of the enemy's provisions is equivalent to twenty of one's own, and likewise a single picul of his provender is equivalent to twenty from one's own store. Sun Tzu, The Art of War
In order to kill the enemy, our men must be roused to anger; that there may be advantage from defeating the enemy, they must have their rewards. Sun Tzu, The Art of War
In war, then, let your great object be victory, not lengthy campaigns. Sun Tzu, The Art of War
It may be known that the leader of armies is the arbiter of the people's fate, the man on whom it depends whether the nation shall be in peace or in peril. Sun Tzu, The Art of War
In the practical art of war, the best thing of all is to take the enemy's country whole and intact; to shatter and destroy it is not so good. So, too, it is better to recapture an army entire than to destroy it, to capture a regiment, a detachment or a company entire than to destroy them. Sun Tzu, The Art of War
To fight and conquer in all your battles is not supreme excellence; supreme excellence consists in breaking the enemy's resistance without fighting. Sun Tzu, The Art of War
The highest form of generalship is to balk the enemy's plans; the next best is to prevent the junction of the enemy's forces; the next in order is to attack the enemy's army in the field; and the worst policy of all is to besiege walled cities. Sun Tzu, The Art of War
The rule is, not to besiege walled cities if it can possibly be avoided. The preparation of mantlets, movable shelters, and various implements of war, will take up three whole months; and the piling up of mounds over against the walls will take three months more. Sun Tzu, The Art of War
The general, unable to control his irritation, will launch his men to the assault like swarming ants, with the result that one-third of his men are slain, while the town still remains untaken. Such are the disastrous effects of a siege. Sun Tzu, The Art of War
The skillful leader subdues the enemy's troops without any fighting; he captures their cities without laying siege to them; he overthrows their kingdom without lengthy operations in the field. Sun Tzu, The Art of War
It is the rule in war, if our forces are ten to the enemy's one, to surround him; if five to one, to attack him; if twice as numerous, to divide our army into two. Sun Tzu, The Art of War
If equally matched, we can offer battle; if slightly inferior in numbers, we can avoid the enemy; if quite unequal in every way, we can flee from him. Sun Tzu, The Art of War
Though an obstinate fight may be made by a small force, in the end it must be captured by the larger force. Sun Tzu, The Art of War
The general is the bulwark of the State; if the bulwark is complete at all points; the State will be strong; if the bulwark is defective, the State will be weak. Sun Tzu, The Art of War
The good fighters of old first put themselves beyond the possibility of defeat, and then waited for an opportunity of defeating the enemy. Sun Tzu, The Art of War
To secure ourselves against defeat lies in our own hands, but the opportunity of defeating the enemy is provided by the enemy himself. Sun Tzu, The Art of War
The good fighter is able to secure himself against defeat, but cannot make certain of defeating the enemy. Sun Tzu, The Art of War
One may know how to conquer without being able to do it. Sun Tzu, The Art of War
Security against defeat implies defensive tactics; ability to defeat the enemy means taking the offensive. Sun Tzu, The Art of War
Standing on the defensive indicates insufficient strength; attacking, a superabundance of strength. Sun Tzu, The Art of War
To see victory only when it is within the ken of the common herd is not the acme of excellence. Sun Tzu, The Art of War
To lift an autumn hair is no sign of great strength; to see the sun and moon is no sign of sharp sight; to hear the noise of thunder is no sign of a quick ear. Sun Tzu, The Art of War
What the ancients called a clever fighter is one who not only wins, but excels in winning with ease. Sun Tzu, The Art of War
He wins his battles by making no mistakes. Making no mistakes is what establishes the certainty of victory, for it means conquering an enemy that is already defeated. Sun Tzu, The Art of War
The skillful fighter puts himself into a position which makes defeat impossible, and does not miss the moment for defeating the enemy. Sun Tzu, The Art of War
It is that in war the victorious strategist only seeks battle after the victory has been won, whereas he who is destined to defeat first fights and afterwards looks for victory. Sun Tzu, The Art of War
The consummate leader cultivates the moral law, and strictly adheres to method and discipline; thus it is in his power to control success. Sun Tzu, The Art of War
In respect of military method, we have, firstly, Measurement; secondly, Estimation of quantity; thirdly, Calculation; fourthly, Balancing of chances; fifthly, Victory. Sun Tzu, The Art of War
Measurement owes its existence to Earth; Estimation of quantity to Measurement; Calculation to Estimation of quantity; Balancing of chances to Calculation; and Victory to Balancing of chances. Sun Tzu, The Art of War
A victorious army opposed to a routed one, is as a pound's weight placed in the scale against a single grain. Sun Tzu, The Art of War
The onrush of a conquering force is like the bursting of pent-up waters into a chasm a thousand fathoms deep. Sun Tzu, The Art of War
The control of a large force is the same principle as the control of a few men: it is merely a question of dividing up their numbers. Sun Tzu, The Art of War